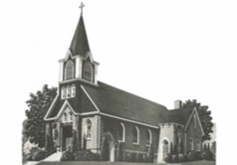 Our Savior's Lutheran Church is older than the community it calls home.
When the parish began, in 1867, Hartland wouldn't be incorporated for another 25 years.
It really is part of the history of Hartland.
The church, originally called St. Martin's, had its first meeting May 5, 1867. Congregation members met in a church on a hill at 400 Capitol Drive, across from what is now the Hartland Village Cemetery.
The church changed its name to Our Savior's Lutheran Church in 1935, and moved to a new location — at the southeast corner of North Avenue and Highway K — in 1971. That building, distinctive for its circular shape, still stands.
Our Savior's moved to its current home, just down the road, in 1999.
Historical Highlights of Our 150 Year Journey
First 50 Years: 1867 -1917
May 1867: first meeting; German and Danish men including Ole Hansen, survived today by the Lund family current members of our congregation

Jan 1868; Property acquired, church built as "St. Martin's"

Services were in English, German and Danish

July 1871 first resident pastor; M.P. Ruh was installed

Church name changed to "First Evangelical Lutheran"

1873 – 1910; Separate German and Danish services

Feb 7 1910 Germans and Danish separated.

Building and property bought by the Danish Lutherans for $1,000 (original building was beyond repair)

Germans built a new church directly across the street, naming it Zion Evangelical Lutheran

May 1911 Danes built and dedicated their new Stone Church built on the site of the original building

1914 one English service a month; Sunday school organized

1922 Church joined the United Danish Evangelical Lutheran Church which in later years merged with the A.L.C. The American Lutheran Church 
Second 50 years: 1918-1967
1931 all services in English; Men's Club organized

1935 name changed to Our Savior's Evangelical Lutheran

Nov. 1936 a choir was organized with several different directors over the years. Florence Behrend was organist.

1940 a Junior Choir was formed

1951 church building was remodeled to double seating capacity

1953 an Altar Guild was formed

1957 – 1958 New parsonage was built on the site of the "round" church at the intersection of Hwy K and North Ave

1935 women formed a Mission society
Third 50 Years and beyond: 1968 – Present
Rhoda Wildrick & Viva Culver organists 1960's, 70's
"Round" Church building dedicated January 17, 1971
First Baptism: Andrew Zietlow, son of Al & Val Zietlow 1/24/71
Carol Haakenson organist 1979-1984
Polly Mauer organist 1984-2022
Carolyn Masterson Music Director 1994-2023
1987 – With a generous donation, the remaining debt was retired; New Rogers Organ purchased & dedicated. Larry Shupe organized a major fund drive for that purchase
June 6, 1999 Walked from "Round Church" to the newly built church north on County Road E for the Dedication
Chapel stained glass windows installed
Sanctuary stained glass depicting Jesus' baptism by John
Beautiful Cross in front of sanctuary donated by Giencke family
Grand piano purchased through fund raising efforts of choir, and Larry Shupe
Installation of multi-media worship resources & tech team
StoneRollers Praise Band formed with Irene & Steve Koenigs
4th & 5th octaves of Handbells and Hand chimes purchased through memorial donations
Ministries of Outreach, Welcome, Youth & Music continue to be focus points of Our Savior's Evangelical Lutheran Church; Meru Diocese Partnership, Tanzania, Africa;  Family Promise; Hope Center;  Loaves and Fishes; and more.
Youth Coordinator, Kim Lewin 2007-2009
Youth and Family Minister, Teri Bergendahl 2010-2016
June 4, 2017 Lake Country Premier of Pastor Frank Janzow's Jazz Liturgy, Rise Up!
June 25, 2017 150th Worship Celebration
Pr. Matthew and Pr. Jennifer Rose 2017-present
March 2020 Launch of Digital Campus
Jackie Oakes, Executive Director of Music 2023-present